The Foundation 1910-1925
The Lord surely has directed the paths of the Christians worshipping with Forest Hill Baptist Church. In 1910, the love of a group of devout Christians flowed freely as they sought a place to worship. The strength of ten charter members as they began to worship in that old schoolhouse and later as they grew and laid the solid foundation which forms the core of the fellowship we know today. Always, one thing was evident, love – Forest Hill growing together proudly, boldly lovingly building a path of the cross. Sharing a bond of love was reflected in all works.
According to founding member and former historian, Mrs. Dorothy Short, there was not always a Baptist Church in Forest Hill, a community east of Memphis, now known as Germantown. At first, people of all denominations sat at desks in the small schoolhouse at the corner of Forest Hill and Old Poplar Pike Road to worship. In an early history narrative Mrs. Short said, "When we moved to Forest Hill in April, 1910 there was no church for white people of any denomination here. The school board gave permission for the people of the community to hold services in the schoolhouse. People of all denominations gathered there on Sunday afternoons to sing hymns, study the Bible, and sometimes hear a preacher. We sat in school desks and were often crowded."
Soon, crowds overflowed and on August 9, 1910, services were held to adopt the Philadelphia Baptist Confession of Faith and a church covenant following the organization of the presbytery composed of the Reverend J. W. Lee and Rev. R. J. Greenoe.
The names of the church members were announced: Mrs. Bessie H. Jefferies, Mr. E. E. Strong, Rev. R. J. Greenoe, Mrs. E. E. Strong, Mr. C. M. Scott, Mrs. Sallie Scott, Mrs. E. J. Cocke, Miss Mal Scott, Mrs. W. T. Scott, Mr. W. T; Scott, and Mrs. E. M. Downs (grandmother of Annella Downs Fussell, member until her death a few years ago).
Forest Hill Baptist Church where love flows freely from the heart was born. God added new people to strengthen the original fold. When the school board moved the little school to the building now used as Germantown Theatre, the members voted to purchase the old building. In 1913, $625 was hard to come by, but remembering the words of the Lord: "Each man should give what he has decided in his heart to give, not reluctantly or under compulsion, for God loves a cheerful giver." (2 Cor. 9:7)
The ladies of the church went to work to do their share in raising the money by serving meals at the Mid-South Fair, giving "Ice Cream Socials" and "White Elephant" parties, and even staging a play on the front porch of a house in the neighborhood.
Together they worked – together they reaped.
Throughout the early years, there was a noticeable bond of love and companionship as the group worked to establish a strong body of believers. Not only was the church a center for religious work, but it served a social need for a small town set apart from the big city of Memphis. Soon there was enough money for repairs and for decorating the building. Often, especially during revivals, services were held outside in a tent stretched in the shade of the trees. New converts were baptized in the Wolf River and people would drive for miles to attend the annual baptizing. The membership and larger space was needed. Where there is a will, there is a way.
And, they had the will and the Lord provided the way.
1925-1999
In 1925, a $12,000 new building was constructed on Forest Hill Road on land donated by members, Mr. and Mrs. C. M. Scott. February 1, 1925, the congregation moved into the building on Forest Hill Irene Road between Poplar Avenue and Poplar Pike Road. The 512,000 sq. ft.Building had a sanctuary that seated 100 people, 8 classrooms, a baptistery, and even running water. Soon, the pump organ was replaced by a piano and the furniture from the original church made way for newer pieces. A hot air furnace in the basement kept it warm when it was cold and in the summertime, well, cooling was mainly a human effort thanks to funeral home or dairy hand-held fans. There was no parking space, so the cars parked on the roadside.
It was not uncommon to hear the buzz of a mosquito or hear a hand swat a fly. Moreover, the windows were always open back then.Sometimes that was how people heard about Forest Hill Baptist Church. They heard the worship service and were touched by the heartfelt love that flowed through the windows. They heard then as now: "Make a joyful noise all ye lands. Serve the Lord with gladness. Come before His presence singing." (Psalms 100: 1-2).
As the need arose over the years, improvements and additions were made. Since its 1910 establishment, some 28 pastors have led the congregation and called Forest Hill their church home. A point of fascination to many members was the 'hidden baptistery' in the building used until 1999. The site of baptisms where so many gave their life to the Lord was discreetly located beneath the pulpit and choir staging area at the front of the church. When it was time for a baptism, the deacons prepared the church area and the pastor would help the person step down into the baptistery beneath.
There have been youth ministers, music directors and many, many others who dedicated their lives to the Lord as a part of the Church family. During the early years, different members arranged flowers from their yards to brighten the sanctuary. Some of the older church members can still remember seeing Miss Clara Skinner sitting on the church steps early on Sunday morning arranging flowers. Miss Clara later planned the fiftieth year celebration and in her remarks told of how the church had grown from one service to two services per month and then to a full-time program.
A prayerful dream became a reality when the first full-time Forest Hill Baptist Church minister moved into a newly built parsonage in 1952.Throughout the years, Pastor's have involved themselves in the surrounding community with some adding basketball teams or baseball teams as part of an outreach ministry. When more space was needed, the flock bought two acres of land directly north of the church.When more Sunday school classroom space was needed, arrangements were made to move war surplus buildings on the area back of the sanctuary. In 1959, the church organized a fellowship for Baptist men and they sponsored youth chapters. The group continues to be active and down through the years many guest speakers have inspired this group of faithful men.
Iron railings for safety were placed at entrances and outside lights installed as more ground was cleared. In 1962, the group put in new floor, new pews, and air conditioning. A communion table, pulpit, rugs, and piano were added. Not long after, the 'weekly newspaper', the Forest Hill Baptist Church Forester began, under the editorship of Roy Jennings.
The congregation later signed pledge cards and entered eagerly into a "Together We Build" program for an educational annex. Joe Rape and his committee selected permanent corner markers and special medallions were installed. Later an Educational Annex was added.Members, like Dr. and Mrs. Phil Cheatham bought and made drapes for the entire building. Other members and friends donated needed items to make the space useful and comfortable. Once again, the love of Christians worshipping at Forest hill spread throughout the area and the membership often held "Know- Your Neighbor-Day". This gave church members the opportunity to meet new neighbors of other denominations, and it gave the neighbors a chance to see the programs of the church in action.
One of the most interesting happenings of those years was an anonymous gift to establish an annual scholarship for a worthy young person of the congregation. The scholarship fund is still coordinated by the Baptist Men's Brotherhood Ministry.
Throughout its history, the church congregation coordinated a variety of programs including newcomers program, a pastor's Saturday class for young boys and girls, Scout Troops, planned programs for senior citizens (lovingly known as 'Keenagers'), an outstanding Mothers' Day Out program, youth choir and Awana. Each activity enriched the church's over-all image and has meant much in the lives involved. At one time, a 'Puppet Ministry', gained much esteem and was invited to perform in many places. The musical ministry of the church continues to be outstanding and inspirational with the Sanctuary Choir often featuring solo's, quartets and special youth programs. The melodious sounds of the choir make services more memorable.
In its more than 100 years, Forest Hill Baptist Church has continued to grow and prosper. We are a church for all people: young, old, saved, and those yet to find Jesus. The Family Feasts, Christmas, Easter, Vacation Bible School, Mother's Day Out Programs, Awana, Baptist Women's Club, neighborhood outreach programs, the wonderful work of our youth, our deacons, and especially our Keenagers keep Forest Hill growing. While membership may change, the focus of the gatherers has always been as a family of Christians united in service of the Lord.
From 1999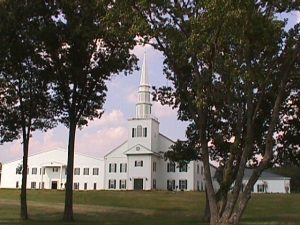 In 1999, Forest Hill Baptist Church relocated to a magnificent white-steepled structure, at Winchester and Forest Hill Irene Roads. Ever keeping with the firm foundation of the Church, a bible was placed under the pulpit in the main sanctuary. A custom-designed free-standing stained glass panel was commissioned to recognize the Church mantra…"Where Love Flows from the Heart…the heart of God."The building is just a few miles from where it all began.
In the fall of 2013, Forest Hill was faced with some decisions about its future. With a traditional style worship as well as an aging congregation, the church became unable to attract younger families. The debt and upkeep on a huge facility was becoming more than the small congregation could handle. Forest Hill has been a great mission giving church, but even some of that giving was becoming more difficult. The church began to pray and seek the Lord's will.
Selling the property was not really an option. Forest Hill would not have had the capacity to locate to a new, smaller property and build a new, smaller facility. As God led, it became apparent that inviting a new church or one just forming to come and share our facility might be the solution. Privately, Tommy Condrey and Robert Ricks prayed for God to send a church our way. Some time passed and no such arrangement surfaced. Then, God provided in an amazing way.
Dr. Danny Sinquefield. Pastor of Faith Baptist Church in Bartlett, and a friend of Pastor Don Marston, knew something of Forest Hill's desire. He asked Marston to meet with Kennon Vaughan, the founder and leader of a non-denominational Christian discipleship organization called "Downline." This popular ministry had drawn support from at least twelve key evangelical churches in the Memphis area for eleven years. Dr. Vaughan had begun to envision starting a new church that would place an emphasis on the discipleship principles that Downline had been teaching for years. He was looking for a place to launch a new church. Having approached several churches with more facility than they needed, Vaughan met with reluctance to even consider the possibility of a partnership. That all changed when Forest Hill Baptist agreed to consider the possibility.
Through a prayerful and deliberate process of seeking God's will for almost one year, Forest Hill voted to ask Harvest to form a partnership. For an older, established congregation to be willing to open its doors to a new community of faith was remarkable. This commitment would allow Forest Hill Baptist to leave a legacy of a helping to launch a Christ centered, Gospel driven, discipleship oriented church. For FHBC, this was and is about building the Kingdom of God.
In September of 2014, a core group of about 150 members remodeled the Forest Hill gymnasium into a beautiful worship center. Harvest officially launched in October and drew about 500 people! This was beyond what anyone expected.
In November of 2015, Forest Hill and Harvest agreed to a transfer of property. Essentially, that agreement allowed Forest Hill to remain in the current facility without any debt or responsibility for upkeep of the property. Forest Hill then began to support tremendous mission efforts in addition to the continual support of Southern Baptist mission efforts. Locally, FHBC continues its support of Calvary Rescue Mission. However, we now give substantial additional support for the Calvary Building Program. We also support Repair the Breech – a phenomenal intercity educational ministry. In Ohio, Forest Hill helped to launch another new church start – Lightpoint Church in Milford, Ohio. Their founding Pastor is Chad Ricks, son of our own Robert and Cathy Ricks. Globally, Forest Hill supports The Forsaken Children – a ministry to the street children in Ethiopia.
Today, Harvest is a thriving church averaging 1,300 people in 2 worship services every Sunday. Their children's ministry is amazing. Forest Hill members are thrilled to see the halls of this facility overrun with young families and their children.
Forest Hill remains a small, but strong church with an emphasis on ministering to and through older adults. It is as true now as ever, that love really does flow from the heart in this congregation.